Baby Boomers, who were born between the end of World War II and the mid-1960s, basically invented the classic car market in the 1980s. They bought up the cars from the '50s and '60s that they pined for when they were kids and could now finally afford. Not all of them were sports cars and collectibles.
Today, many in the Millennial and Gen Z generation are doing the same thing, but instead of the muscle cars of the V8 era – they're pining for '80s and '90s cars that were similarly discarded after their natural life, and flocking to events and websites that celebrate those models.
Radwood, a newer car show series that focuses on the vehicles, clothes and ephemera of 1980s and 1990s, takes the principles of vintage car shows to a new, modern level. Auctions sites like Bring a Trailer have seen amazing growth in both volume and sale price of those vehicles.
"Collector automobiles go through a cycle where they are forgotten for a decade or two before nostalgia drives their now financially stable fans to buy them up. Right now, what we're seeing is the '90s becoming the new '50s when it comes to the cars collectors and enthusiasts are seeking out," said Bring a Trailer cofounder and CEO Randy Nonnenberg in a press release.
"Vehicles once considered mundane, utilitarian and even 'econobox' are the new cool and being given a fresh look."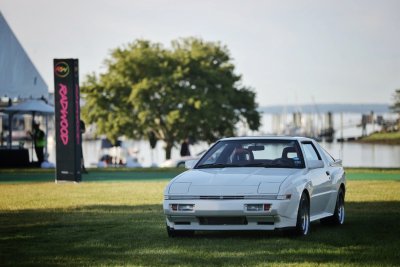 This buying boom is running a similar course to other purchasing trends that have come and gone over the last few decades, but there is one key difference – who is buying.
"I don't think this is any different from the muscle car boom of the 2000s, or the more recent run on air-cooled Porsches that doesn't yet seem to be slowing. The main difference is that I've seen a lot of interest in cars from the '90s from Boomers and Gen X as well," Bradley Brownell, co-founder of Radwood and current Crawford Auto Aviation Museum Director told Newsweek.
"There are at least three generations trying to buy from an ever decreasing pool of cars. As nostalgia continues to be a driving force in the automotive universe, and the modern automakers continue to build cars that ever more disconnect the driver from the experience of driving , more people are looking for a fun car unlike anything they can buy on the dealer lot," he said.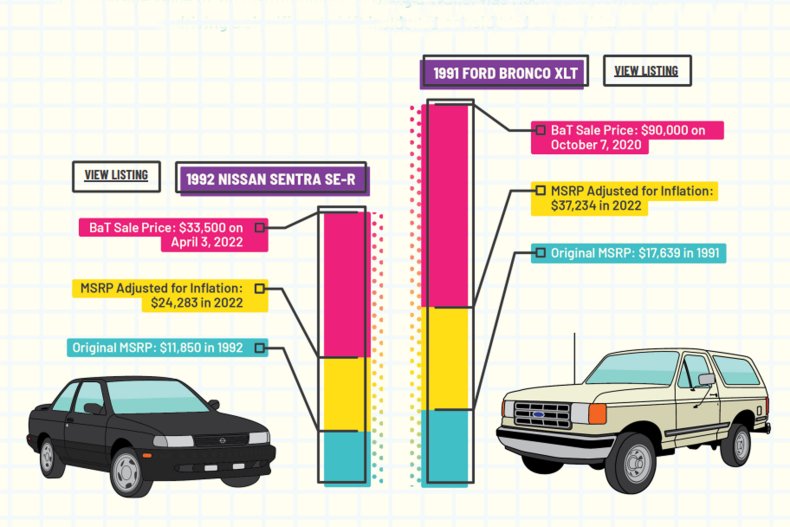 Getting a collectible car is a major investment and Investopedia recommends researching the purchase before buying.
"This is tangible personal property, and you'll owe capital gains tax if you sell at a profit. Restoring a seven-figure car to concours condition can cost another seven figures. Then there are ongoing maintenance costs, storage expenses, and insurance. Profits from the eventual sale of the car will also likely incur commissions/consignment fees, transaction fees, and transportation costs—because chances are you aren't going to tow a Bugatti behind a U-Haul," said the investing site.
"Buying a new or newish car because you think it will be collectible someday is risky. Sure, you could get lucky, but chances are you aren't going to be able to buy a cheaper car and expect it to be worth millions in a relatively short period."
Bring a Trailer pulled up eight average '90s vehicles that have increased in value by 71 percent. Some notable examples hit the bottom of their depreciation curve (when the vehicle is worth the least) and then climbed back up to eclipse their original manufacturers suggest retail price (MSRP).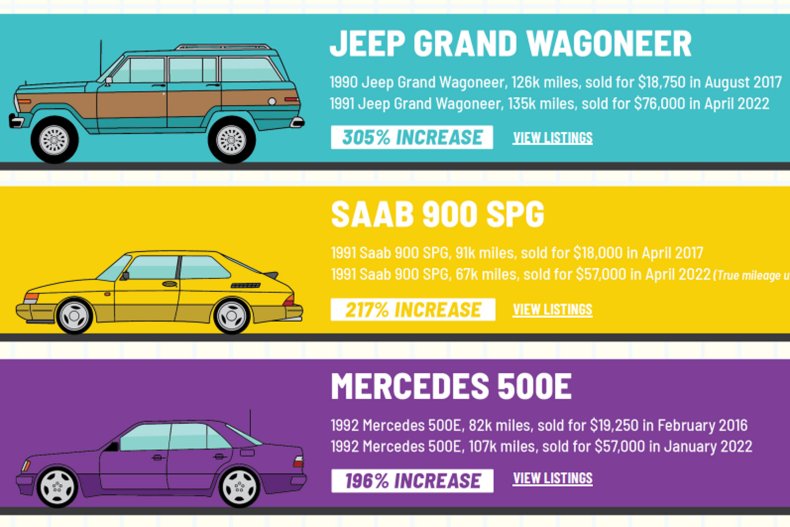 For instance, the 1992 Nissan Sentra SE-R was the sportiest version of the inexpensive sedan. It came in with an MSRP of $11,850. Adjusted for inflation it would cost $24,283 in 2022 dollars. Bring a Trailer just sold one this year for $33,500.
The 1991 Ford Bronco XLT had a starting price of $17,639. That makes it $37,234 in 2022 dollars. One sold in 2020 for $90,000.
The data also compares the price of new cars to fun '90s classics. The average price of a new car is $46,404 according to Cox Automotive. They're also averaging a 9.9 percent markup according to iSeeCars. Additionally, Edmunds data reveals that new cars lose 23.5 percent of their value in one year and 60 percent in five years.
Compare that to the average price of a '90s Bring a Trailer car sold in the first quarter of 2021 at $45,302. There's no markup and no depreciation. Instead, from 2020 to 2022, the average increase in value was pegged at 82 percent. The study continues with some comparisons. Buyers can get a new Toyota Camry or an old BMW M3. They can get a base model Nissan Rogue or a classic FJ80 Toyota Land Cruiser.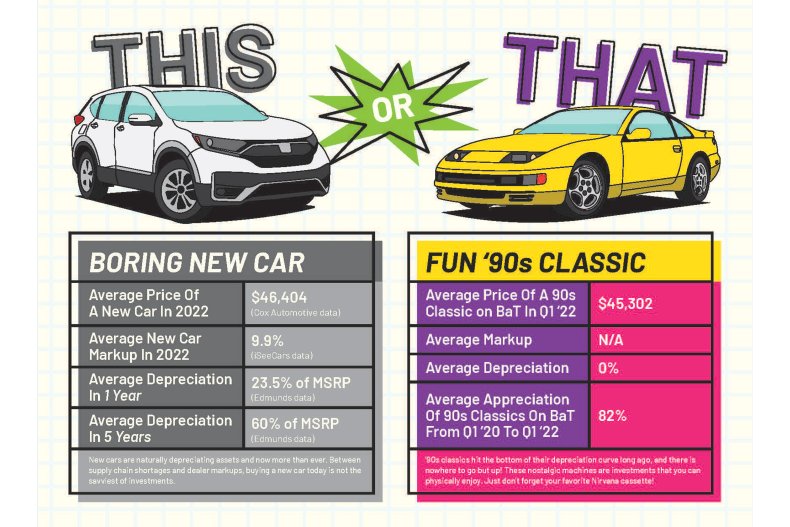 "What is remarkable is we've seen this happening not just with the expected Toyota Supra and 911 Porsches, but also with regular cars like the Honda Accord and Chevy Suburban," Nonnenberg said in a press release.
"With the state of the used car market, people with '90s cars they would have before seen as desirable are seeing a new opportunity to make some cash. Never before have we seen sales volumes rise so quickly in one category."
Brownell doesn't think it's all about appreciating assets.
"I think it's a bit of both. There are certainly people like myself who have been professionals in the workplace for over a decade now, and have established careers who are buying cars they dream of in their youth and driving them," said Brownell.
"Just as in any demographic, there are some of us who are happy to take our collector cars out for a drive, resale and paint chip risk be damned, and there are others who are more interested in the preservation of the thing or the thrill of the chase."